Padmini (Nina) Banerjee Ph.D.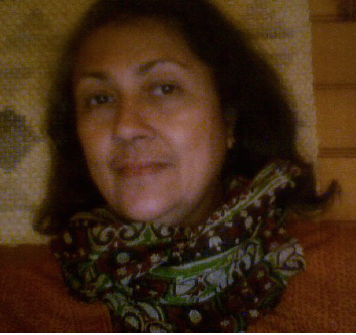 Associate Professor, Department of Psychology, and
Assistant Director, Women & Gender Studies Minor Program
College of Arts, Humanities and the Social Sciences
Delaware State University
pbanerjee [at] desu.edu
302.857.7040
EDUCATION
Ph.D. from Pennsylvania State University in Human Development & Family Studies (1991). Minor in women's studies. Doctoral dissertation on multiple role involvement and the sense of control over one's life in relation to women's experiences of stress and satisfaction across work and family spheres.
M.S. and B.S. Honors from the University of Delhi, New Delhi, India, in Child Development and Family Relationships (1976). Master's thesis on the effectiveness of "training" for creative thinking during middle childhood.
Postdoctoral scholarly affiliation: Ongoing secondary research using global migration data from selected studies archived at Harvard University/ Murray Research Archives, Cambridge, Ma. (2005 - present).
RESEARCH INTERESTS
Issues in lifespan and cross-cultural psychology – migration, identity and mental health; the "refugee experience" of dislocation, survival, adaptation and change. Stress and health in the context of multiple role involvement; anxiety in modern life; dealing with personal crises and dislocation, coping and resilience. Educational and policy issues – factors affecting student engagement in the classroom, gender equity and aging
PROFESSIONAL MEMBERSHIPS
American Psychological Association (APA)
International Division/ Div 52 of the American Psychological Association (APA)
Eastern Psychological Association (EPA)
Society for the Psychological Study of Social Issues (SPSSI)
PUBLICATIONS
German, M. and Banerjee, P. (2016). Continental Divides in an Age of Technology: Unanticipated Consequences of Emigration and Implications for the Economic, Political and SocioCultural
Arrangements in the Home Country, Journal of Media Watch (Summer 2016), in press. 
German, M. and Banerjee, P. (2016). Migration, Technology and Adaptation: Post Migration Experiences of Filipino Immigrants in the US. In C. Sarmento (Ed.), Semiotics of Intercultural Communication: from Theory to Practices. Porto: CEI & Edições Afrontamento 
Banerjee, P. and German, M. (2014). Religious Ethnic Identities in Multicultural Societies: Identity in the Global Age. In M. Kopytowska and Y. Kalyango (Eds.), Why Discourse Matters: Negotiating Identity in a Mediatized World (pp.265284). NY: Peter Lang Publishing. http://www.amazon.com/WhyDiscourseMattersNegotiatingMediatized/dp/143312…
P. Banerjee. (2012). Studying the Role of Culture in Psychology: An Overview of Approaches, Guiding Concepts, and Issues. In J. Rich (Ed.), Research Doesn't Have to be Boring . IA: KendallHunt Publishing Company.
German, M. & Banerjee, P. (2011). (Eds.) Migration, Technology & Transculturation: A Global Perspective. St. Charles, MO: Lindenwood University
Press. https://www.sites.google.com/site/transculturationbook/
Banerjee, P. (2011). Witkin, Herman, A. (19161979). In R.W. Reiber (Ed.), Encyclopedia of the History of Psychological Theories (DOI 10.1007/19781441904638).
Springer Science Business Media. 
Kenney, J. L., & Banerjee, P. (2011). "Would someone say something, please?" Increasing student participation in college classrooms. Journal on Excellence in College Teaching , 22 (4), 5781.
http://eric.ed.gov/?id=EJ961229
Kenney, J. L., Banerjee, P. & Newcombe, E. (2011). Developing and Sustaining Positive Change in Faculty Technology Skills: Lessons Learned from an Innovative Faculty Development Initiative.
International Journal of Technology in Teaching and Learning , 6(2), 89102. 
Banerjee, P. and German, M. (2010). "Migration and Transculturation in the Digital Age: A Framework for Studying the "Space Between." Journal of International and Global Studies, 2(1) , 2235.
Kenney, Banerjee & Newcombe. (2009). Developing and Sustaining Positive Change in Faculty Technology Education: Lessons Learned from an Innovative Faculty Development Initiative.
Proceedings of the Society for Information Technology & Teacher Training (SITTE) International Conference in Charleston, SC: March 26, 2009.
Banerjee. P. (2009) – (book review) The Rediscovery of Apprenticeship: An Age Old Solution Aligned to 21st Century Needs. A peer reviewed book review of The Means to Grow Up: Reinventing Apprenticeship as a Developmental Support in Adolescence by Robert Halpern. New York: Routledge, 2009. 230 pp. ISBN 9780415960335. $39.95, Paperback, APA Contemporary Psychology, PsycCritiques Online journal.
Banerjee, P. (2008). Amalgamated Identities: New Phenomenon or New Paradigm? International Psychology Bulletin, 12(2) , 1015. https://www.google.com/search?hl=en&source=hp&q=Padmini+Banerjee+amalgam… &oq=Padmini+Banerjee+amalgamated+identities&gs_l=heirloomhp. 3…835.24760.0.26406.59.29.5.23.0.1.602.6503.7j10j4j2j3j3.29.0….0…1ac.1.34.heirloomhp.. 50.9.889.I5SObSQMTT4
Banerjee, P. and German, M. (2008). Postmodern Religious Ethnic Amalgamated Identities: An Emerging Perspective. Journal of Applied Global Research (JAGR), 1,1.
Banerjee, P. and German, M. (2007). Amalgamated Religious Ethnic Identities: The Promise of an Emerging Postmodern Paradigm. Proceedings of the International Intellectual Consortium (IIC), 1, 178194.
Banerjee, P. (2007). New Dilemmas, New Solutions: Meeting Mental Health Needs of the Indian Diaspora – Proceedings of the International Conference of Psychology and Mental Health (ICPMH), National Institute for Mental Health and Neuroscience (NIMHANS), Bangalore, India.
Hobfoll, S. E., Banerjee, P., & Britton, P. (1994). Stress resistance resources and health. In S. Maes, H. Leventhal, & M. Johnston (Eds.), International Review of Health Psychology , Vol 3. Chichester, England: Wiley.
Britton, P. J. & Banerjee, P. (1992). Film review of Understanding Psychological Trauma . The Community Psychologist , 25 (2), 1213.
BEYOND ACADEMIA
Other Writing: 1980 - present:
Several nonfiction pieces published in internationally salient newspapers/magazines such as The Philadelphia Inquirer , The Statesman , The Telegraph , The Indian Express and The Hindu . Currently working on a collection of nonfiction essays based on my observations and experiences across continents.